NetSuite Event records can be used to plan our day with timely event with date, start and end time,place as well as information on what the event is, who will be attending, who is invited, etc. Events can be something as simple as a conference call where people join and participate. Or it can be a major meeting, such as a trade show.
In order to share an event with several employees, we must create an employee group with a simple criteria or through selecting the employee manually.
To create a group: Goto Lists > Relationships > Groups > New

In this page you choose to create either a dynamic or static group.
Dynamic groups:
Dynamic group membership updates the members eligible for defined group's criteria. For example, you can set search criteria to create all employee sales reps group. When a new sales representative is appointed, the agent will automatically become a member of this dynamic group. The sales representative will be automatically deleted from the group when employee changes to another designation.
Static groups:
Once you select "static," you then choose "employee" from the drop down list, and Click Continue.
You can create up to 10,000 members by selecting members from lists or with a search. For groups larger than 10,000, you must create a dynamic group. The membership of static groups does not change.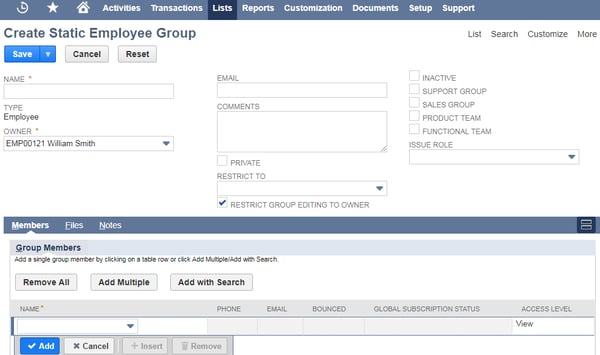 Enter name in the Name field

Select the owner in Owner field

Add employees to the group from the Members sub-tab drop down list

Save the record
In view mode, we will find subtab "Events"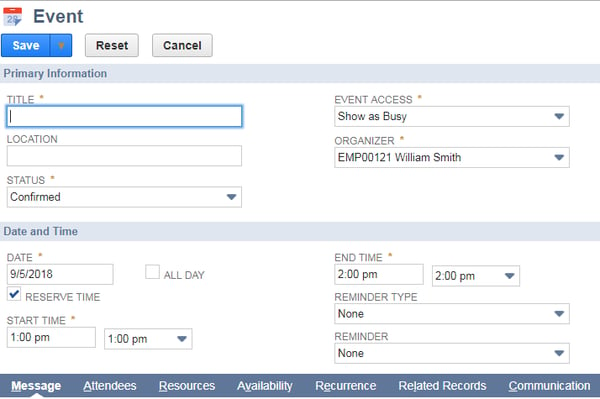 Enter title and location for the event

Enter details for date and time

Under the message subtab, enter the message for the event

Attendees will be populated automatically from the group

Save the record
After saving the record, the event will be shared with the employees who are in the group. Group members can see the event details in their Netsuite calendar.