A Bill of Material (BOM) is a list of parts, items, assemblies, components and other materials are required to build a product and includes instructions for how to assembled product from the various parts ordered.
For example, a computer is exploded into hard drives, RAM, Processors, chips etc.. which are included into the requirement of entire computer.

The Manufacturing bill of materials(BOM)

be made up of all the assemblies and parts required to construct a finished and shippable product.
Advanced Bill Of Materials (BOM):
In latest versions of netsuite, it release a fresh features & existing functionalities.

The Advanced BOM record is available as of NetSuite 17.2.
Enable the Advanced BOM feature in Netsuite:
Go to Setup > Company > Enable Features

Go to Inventory & Items tab

Check the Advance Bill of Materials box.
Advance BOM Features:
Allowing multiple BOM's for a single assembly item and for a single BOM is used with multiple assembly items.

After enable the advance BOM feature in netsuite, existing Bill Of Materials is automatically converted to read only BOM record.

The components subtab on the item record replace by the new Bill Of Materials Subtab.

It specify default BOM by location (previously, the same BOM was used to all locations)

Create multiple revisions of a BOM with different effective start and end dates

Ability to view full history of BOM revisions and effective start/end dates.

You have to define component yield level on the BOM revision record.
Creating BOM:
There are 3 ways to create the Bill of Materials.
Creating a new BOM record.

Create BOM an Assembly item.

Copying a BOM
Creating a new BOM record:

Go to Lists > Supply Chain > Bills Of Materials > New

In the name field enter a BOM name.

If you apply Component yield to all BOM revisions check the box.

Component yield preference:

It is used to automatically calculate the quantity for loss of raw materials during the process.

For example,

you sell one assembly item (ex: Table) it made up of some components (ex: 4 legs, rod etc..). Every 100 assembly items, 10 legs are defective. When you order the

"Table"

to get 100 tables but you need to order 110.

To use all assemblies in BOM, check the

Available for all Assemblies

box. Clear the box to use only limited assemblies select in the

Restrict to Assemblies

field.

To use all locations in BOM check the

Available for All Locations

box. Clear the box to use only certain locations Select in the

Restrict to Locations

field.

If you use one world account Select the Subsidiary.

Used on Assembly box indicates that BOM is associated to an assembly it means.

Save.
Create BOM an Assembly item:

To create new assembly Go to Lists > Accounting > Items.

In Assembly item page go to manufacturing subtab.

In the Bill of Materials select New.

Complete the Bill Of materials & save.
Copying a BOM: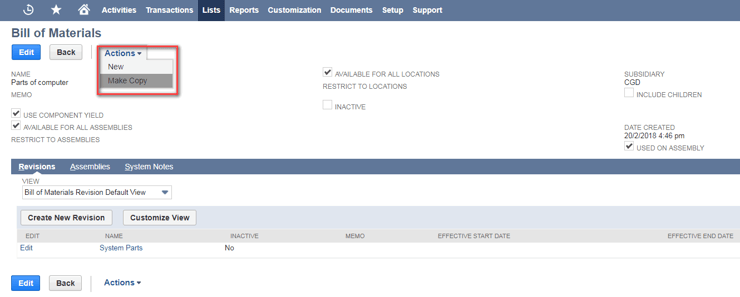 It is reuse the existing BOM work for create a new BOM.

Go to List > Supply Chain > Bills Of Materials

Open the existing BOM record what you want. Open in

view

mode.

In

actions

list, select

Make Copy.

Change the copied BOM name to other.

Please make the any changes if you want.

Save.
BOM Revisions: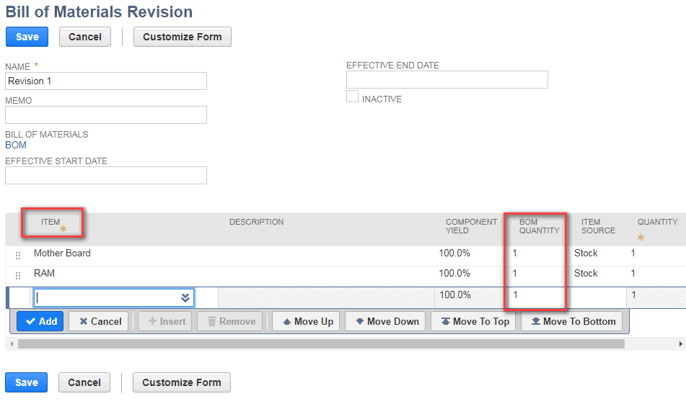 It is use to update the Bill Of material details of entire product.

Go to Lists > Supply chain > Bills Of Materials.

Click view the BOM what you want revise.

On the Revisions subtab click the Create New Revision.

Enter BOM name.

If you want to not appear in search results, check the Inactive Box.

Select Items what you want include with BOM revision.

Enter the BOM quantity & select Item source. It means, what item quantity are you taken from like, stock, purchase order.

Save.
BOM Inquiry:
A BOM Enquiry is used to review the build requirements for an assembly item. It displays how much quantity is there in your assembly components.
In Administrator account, Go to Transactions > Manufacturing > Bill of Materials Inquiry.

IF you use one world account select Subsidiary.

The BOM Inquiry displays Component name, Level, Component yield, Quantity per assembly, on hand qty, Available qty, Backordered, on order.
Finally, It is way of clarifying how to build a product using BOM and instructions for how to assemble the product from the various parts.