Project Management feature enables you to create workspace for your project, Manage tasks , create Milestones.
Project workspace helps in tracking from planning stage to final work on tasks and billings of that project to customers.
You can assign Standard Consultant Role for employees to access the projects,Tasks, enter timesheets and expenses.
1. Creating New Project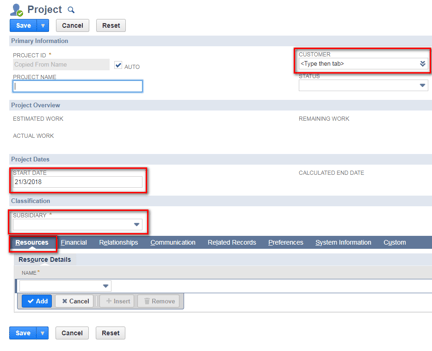 Project management helps in creating project for a customer

Select the customer for whom you are creating project if exists in system else create a new customer.

Enter project start date

Add Employees under resources who are going to work for that project and who can access project details.
2. Creating Tasks For The Project: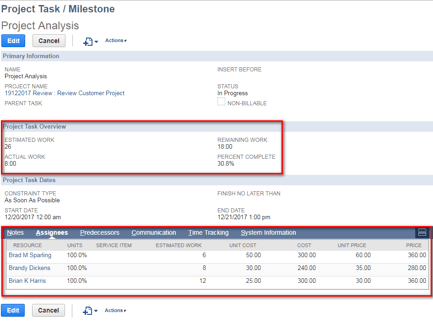 Create Tasks for the project and enter start date of the task.

Select assignees for the task and enter estimated work hours for each employee, on entering estimated works for employees Estimated work hours for the total task and end dates are automatically calculated.

Employees can track time spent on those tasks which helps in calculating Actual work , Remaining work and Percent of work completed regarding that task.
3. Predecessors: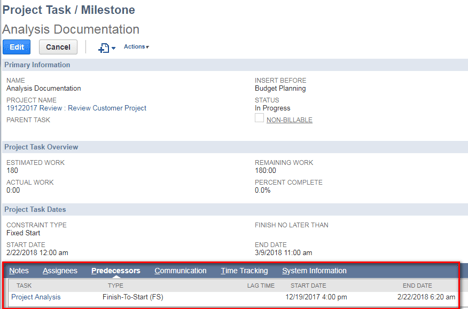 You can enter predecessor tasks if any which needs to be completed before this task gets started.

Project tasks hierarchy helps in organizing, planning and working on the project accordingly.
4. Gantt Chart:
You can view the Gantt chart of the project which shows the hierarchy of the project tasks , resources assigned for the task, and task periods.

5. Project Billing:
Project billing depends on billing type agreed at the time of project agreement.

There are three different types of Billing Types in Netsuite
Fixed Bid,Interval:-

For this billing type bill will be provided to customers for the currency amount agreed at the time of project agreement and the amount doesn't change over project progress.

Fixed Bid,Milestone:-

For this billing type bills will be provided to customers for the amount based on the milestones achieved , bills will be included with all the services included in that milestones.

Time and Materials:-

For this billing type bills will be provided to customer for the amount based on the time and materials used for the project and amount varies as project progresses.
Project Management Setup helps in creating a workspace for managing tasks and creating milestones, work breakdown structure helps to easily check the data related to project tasks.