Track your items Individually or as group and can also track serial and lot number of you inventory. Includes history of the recent transaction in each inventory item.You can also Track the items individual or group of track the inventory items.
Item record types:
Navigate for Items: Goto > List > Accounting > Items.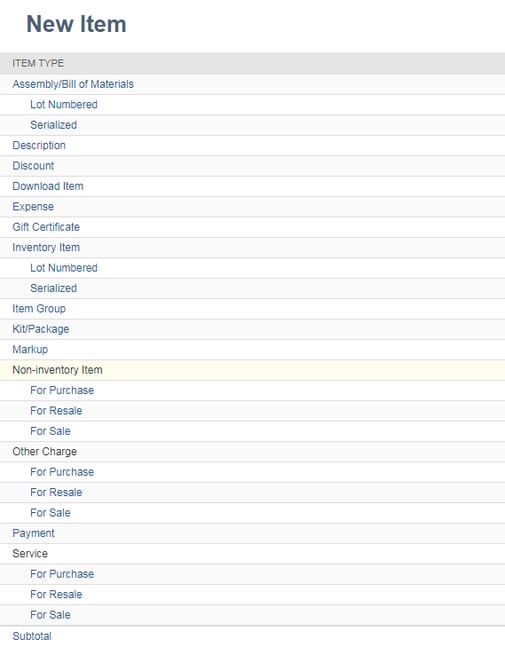 Items are selling and service the part of raw materials purchase form vendor. when you buy and sell the item, quantity on hand and when you purchase items and receive.
Item groups are used to manage inventory by dividing inventory items into groups based on items. Accounts for sales, purchase, inventory, and production can be set up in detail according to the company's needs.
Component items can be inventory, non-inventory, service, assembly, or kit items. Kit or package items are useful for grouping component items together that are sold together.You can assign multiple price levels to your kits and make them available.You can only description and amount of the kit or package.
Assembly/Bill of Materials:
Netsuite enable you to track both raw materials and assemble items are track separately. A Bill of Materials can define products as they are ordered,as they are built, or as they are maintained. The different types of Bill of Materials depend on the business need and use for which they are intended.
Serialized Inventory Item:
The serial number identifies each individual item. If an inventory item is classified as a serialized item, a serial number must be entered for each item purchased or manufactured. You first enable serialized inventory items in your Netsuite account before you can access this record type.
Go to Setup > Company > Enable Features. On the Items & Inventory tab, under inventory Select the Serialized inventory Check box.
Track the Inventory items and rew materials and finished items track the separately. Inventory items by assigning a serial number to each assembly individually. You can track every items as showing the details.
This often means having enough stock of goods to the inventory totals as well as subtracting the most recent shipments of finished goods to buyers. When properly managed and appropriately stocked a warehouse provides a consistent supply of material when it is needed.