NetSuite provides standard segments like Subsidiaries, Departments, Locations and Classes. But standard segments are limited. So NetSuite provides an additional feature custom segments to create unlimited segments and use them to draw reports easily.
Custom Segments is also known as Suite Segments, it allows you to create a number of classifications such as Classes, Location and Department.
Before creating custom segments you need to enable the feature, Go to Setup > Company > Enable features > Suite Cloud > Suite GL. Mark the Custom Segments check box and click Save.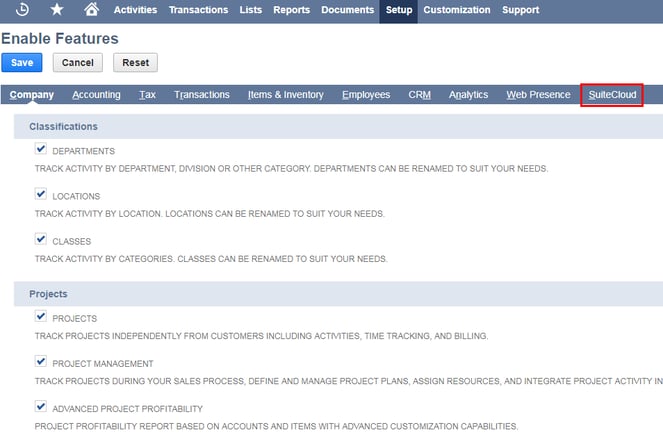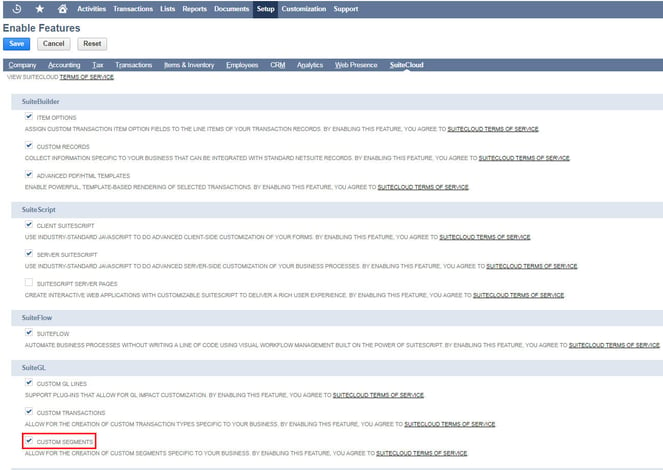 To create Custom Segments, go to Customization > Lists, Records& Fields > Custom Segments > New.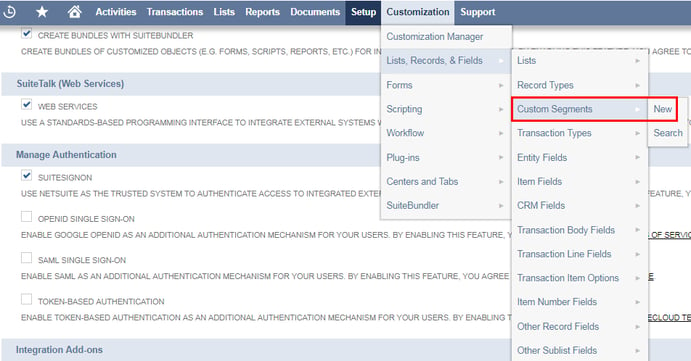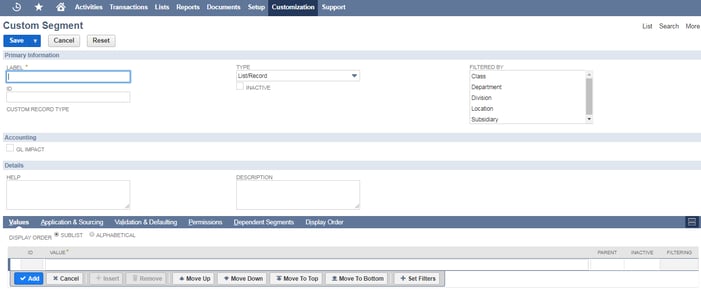 In label field enter the segment name and it will appear on records.
There are two types of Custom Segments – 'List/Record' and 'Multiple Select'. Using List/ Record a user can save only one selection whereas multiple selections can be saved using Multiple Select option.
Multiple Select has the following limitations.
The segment cannot have GL Impact.
The segment cannot be applied to transaction columns.
Dynamic defaulting cannot be configured for the segment.
On enabling GL impact checkbox, when the segment is used on a transaction then the segment 's value is displayed on GL impact page
Under Values subtab, Create values for the custom segment by adding lines to the Values sublist.
Under Application & Sourcing subtab, apply the segment to one or more record types by checking the record types. You can also make the segment available on another custom segment or as a column in a transaction sublist.
Under Permissions subtab, you can assign permissions to other roles for accessing Custom Segments.
Under Dependent Segmentssub-tab, the list of segments having relationship with that particular segment can be viewed.
Under Display order subtab, specify the order in which custom segments will appears on other record, transactions and GL impacts.
In addition, Custom Segments can be used as search filters and search columns in advanced searches to find records. In order to use a custom segment as a search filter or column, the user must have the Edit level of the Search or Reporting Access permission for that segment.
Values can be created and updated using import assistant.
Benefits of Custom Segments:
Configure Segment Values to Be Hierarchical.
Configure a Segment to Default Static or Dynamically.
Filter a Segment's Values Based on Other Segments.
Filter a Segment's Values Based on Class, Department, Location and Subsidiary.
Configure a Segment to Appear on the GL Impact Page.
Create Segments as Multi-Select Fields.
Display Segments Selectively.