Sales order helps in tracking:
What items / services customer has ordered

Tracking of items to be pulled from inventory for shipping.

To know order status of items which items are shipped and which are not.
Creation of Sales order:-
Sales order can be created in two ways
When an estimate is present you can convert the estimate into sales order directly. See Fig 1.1 for creating sales order from estimate.

You can create new sales order directly. See Fig 1.2 for creating sales order directly.
Creating Sales order from Estimate :-
Go to Transactions > Sales > Prepare Estimates > List
Open the estimate which you want to convert as sales order in view mode and click on "sales order" button.

Creating New Sales Order :-
Go to Transactions > Sales > Enter Sales Order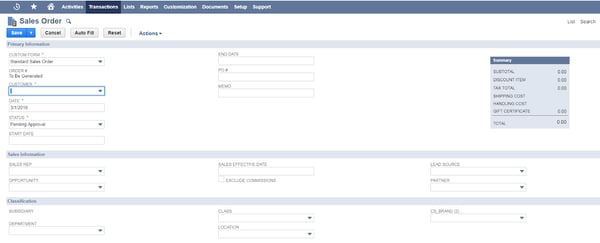 Select the customer to whom you want raise sales order, customer subsidiary and currency are automatically populated

Enter classifications if you want to tag the sales order to department or location.

Add items which are ordered by customer under items subtab , enter quantity and save the sales order

By default sales order will be pending approval once approved then it enters into fulfillment queue.
Impact of Sales order on Accounting:
Sales order doesn't impact accounting until and unless the items are shipped or the services are completed.
Generic Flow of Sales Order